The goal of this challenge is to help each other (fellow readers and bloggers) manage our enormous and constantly growing TBR (To-Be-Read) List. The rules are simple and everyone is encouraged to participate. It does not force you to commit to more than what you can manage to read in a week or so, but participants are encouraged to read at least one book within a week. You are free to choose the book you want to read and commit to this challenge. You may post your entry every Saturday, at the frequency of your choice--
EVERY WEEK
or
EVERY TWO WEEKS
.
1. Post the book(s) you committed to read in your last TBR Intervention post and tell us something about it. Did you finish it? Did you enjoy it or not? Post the link to your review (if you have one).
2. Post a book that you want to read and already own. Pick something that has been sitting on your shelf for too long now (6 months or longer). Commit to read the book in the next couple of days or week.
3. Grab the TBR Intervention Button and post it on your blog sidebar so you will be constantly reminded of the challenge, making it easier for you to commit. This will also encourage other readers/bloggers/visitors to join the challenge.
4. Make sure to visit the other blogs. Comment, encourage, and spread the love to our fellow readers.
My daughter came into town so I have not had a chance to do as much reading or blogging. Sorry everyone. I am still reading The Year She Fell. I am liking it. It is a complicated issue. What do you do when you meet a young man who has a birth certificate with your name on it as birth mother that he says he got from an adoption agency? You are wondering how to prove to this young man that you are not his mother, when you look at the date and realize that your daughter was born only 3 months later. Thinking if someone put your name on there they must know you, you look closer at the young man. Then you realize that while you are not the mother, your husband IS his father. When you confront your husband he says it was a one night stand. He doesn't remember who it was. Only you know he is lying. Why would he lie about not knowing who it was? Was the relationship with someone you know? It must have been since they knew your information. So who is the boy's mother and why is your husband protecting her? That is the main plot of this book. There is more going on, (as in life), in the story. Ellen's mother is giving away the family home plus everything in it to some suave college president. One sister is leaving the convent and the other, a successful actress, may be getting involved with a local guy she dated in high school. But the main plot is Ellen and her marriage, including the mystery of who is the boy's mother and also how will this boy fit, or not, in the family mix. I am really finding it very interesting to read. I keep wondering how I would react in the same situation. What would I think, feel, do? Intense don't you think? I will have this book done by next week. I promise. *smile*
How did you do with yours? If you aren't doing this challenge, why not join in the fun? It is a great way to get to some of those awesome but buried books on your TBR list.
Coming up: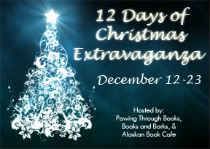 Be sure to come and join in the fun with different authors on each blog every day. There will be giveaways too!