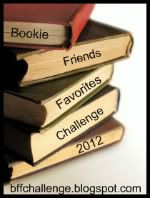 I'm nosy. I like to know what everyone is reading. I have found some really interesting books this way. I found been introduced to many authors I did not know through Bookie Friends. So when I came across this challenge I thought it would be a fun and easy way to find some treasures. Okay so it also legitimizes my being nosy. That is a bonus. If you would like to hop on and join in the fun, (especially if your nosy and want an excuse for it), check out the rules and sign up HERE.

Basically the way it works is after you sign up, you put up a list, (with Links), to 5 of your favorite books. I know I have hundreds that could go on this. I promise to keep it at 5. Add the Challenge button to your blog.
Then you visit the blogs of the others participating and you choose at least 3 books, (it can be more), that you will read and review. They can be chosen at one time or as you go. When you make a selection you need to post it with a link back to the person who suggested it.
Then read and review. Make sure to link your review to the original post.
Now the hard part...my 5 books.
The first one I am choosing is ...
after which I am considering the following:
For those who looked for my post earlier I apologize. I have been sick and also have a personal issue I am dealing with.
Comments Always Welcome!