Could there possibly be a Sookie Stackhouse, (pre-TrueBlood TV),that I would feel comfortable recommending to older teens or my friends who didn't like the more "adult features" of that series? Could Nancy Drew be updated in a paranormal world and work? I did not think it was possible. Then I discovered Christine Amsden and her Cassie Scot series and have turned into a believer. I love this series!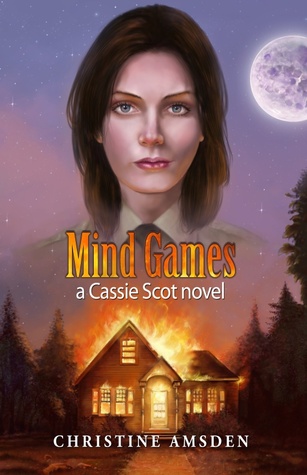 Mind Games is the third book in this four book series, (out now for ebook; Trade Paperback June 15, 2014). For those who know Cassie, you will devour this installment. I am awaiting the final book with bittersweet anticipation. I want to know how things wrap up but am dreading the end of a series I love.
I was introduced to Cassie Scot when I agreed to review the second book in the series. The author, very generously, sent me the first book along with the second, (signed too! I almost died). I wasn't expecting what was inside the covers of those books. I read a lot and am not extremely picky. I will give most any book a chance. Some I enjoy greatly, some I am greatly disappointed in. A few I have had to shelf just because they are the kind I need a mood for. A few I shelf with the hope a second chance later on will make them better, (it happens and you know it). A very small number I can't get through at all. I choose my books from all genres. I read popular authors and unknowns, publishers and self published. It makes for a variety of writing skills and types. I have learned to not expect anything, (even from popular authors of big publishing houses - they fail too and you know this). So I opened the book with the hope of a good story and was drawn in so quickly I read for hours. I immediately got the same tingle I got when I read Nancy Drew as a girl. Oorah! A winner. Yeah I did do a happy dance.
Cassie Scot is a young adult born into a magical family. She, however, is "normal". With no magical skills to be found, Cassie decides to open a "normal" detective agency in a town full of paranormals. Since she has no magical abilities she advertises for normal investigations. With no real takers and no real money coming in, Cassie agrees to accept a paranormal case. Why not? She does know the community well. So begins our journey. Cassie pairs up with a paranormal, good looking guy that she was friends with long ago. Just because their families have an issue doesn't mean it will affect them, right? Wow. What that leads to!
I don't want to give out too much as I hate when reviews tell me everything. I have no reason to read it then, do I? I will tell you that the first book hooked me in with the feeling I got while reading it. It was the same feeling I got when I read Nancy Drew. It was the tingle that said this book is going to be my friend. I will visit with it again, (and again). The mysteries presented are good but it is the characters that truly captivated me. Ms. Amsden writes characters that are interesting and likable, (a few not so likable), and very human. The relationships and the road they travel are fascinating, maddening and sometimes heartbreaking. Tell me that doesn't sound like real life. I know, you may be saying I read to escape real life. I get that. I do too. Trust me, you will have that escape. After all how many paranormal relatives do you have? How many paranormal investigations are going on at your house? Exactly. You can relate to the characters but still be taken away. It is magical writing.
Mind Games is the newest release in the series. So much has happened. Cassie has had her heart broken. She has decided to work with the sheriff's department. And she has faced a family issue that will rip your heart out. She has survived but what was the cost and where will it lead? Mind Games brings us exactly what the title suggests. There is a new love interest, a new mystery and more family issues that give true meaning to the title. I thought I was unraveling things fairly well early on in this book. I didn't mind though as there are layers to these books. The mystery is only one layer. Excitement and suspense flow like a babbling brook in the woods. You may know where it leads but you keep walking along side of it for the sheer fun and beauty of it. As for me unraveling things quickly? Well turns out that the brook didn't exactly go where I thought it did though it was close by.
Each book in the series has its own mystery to be solved yet it remains woven into the book before and after. There is a cliff hangar, of a sort, at the end. The series has no strong language issues. There are some sexual references, which is why I recommend it for older teens and adults, that are not overly graphic. There is some violence but it is also not over the top. I do recommend, for best enjoyment, that you read the series in order:
Cassie Scot: ParaNormal Detective
Secrets & Lies
Mind Games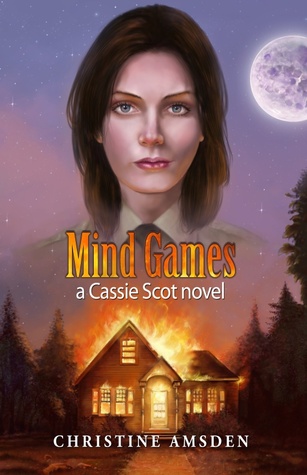 Stolen Dreams
(coming soon)
The series is a total of four books which make it perfect for gift giving. I love those kind. I enjoy giving books and being able to gift an entire series without breaking my budget is awesome. (And, why yes, I do think of Christmas year round LOL).
The author did send me copies of the books for review purposes. I also purchased Kindle copies. After reading the first book I decided the author was well worth supporting by making my own purchases. The books she sent me are on my shelf, enjoying space with my Nancy Drew, Anne of Green Gables, Gone With The Wind and Sookie Stackhouse books, (among others). My reviews and this blog piece are based solely on my honest thoughts and feelings while reading the series. My review, neither right nor wrong, is my honest opinion of what I read. I do hope you will check out this series.
The author has also written: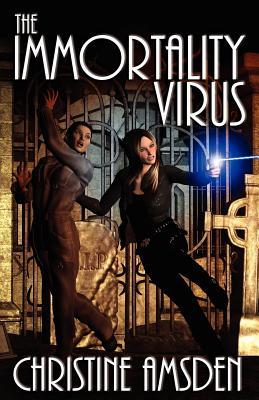 Christine Amsden can be found at: