W A Kincade
Mr Kincade is a teacher and writer. He is the author of two new books I will be reviewing soon.
.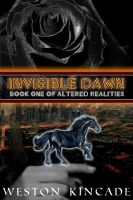 The first up is
Invisible Dawn
Here is what the author had to say about it:
To keep a promise and save his long-lost goddaughter, computer programmer Jedd Altran sacrificed everything, including his wife and newborn son. Now, they must pass through worlds far different than their own to escape the clutches of government killers.

In a world where rare individuals have evolved, the government kidnaps specific children to study and utilize their abilities. Madelin has been imprisoned in such a facility for thirteen years and suffers from medically induced amnesia. Facing a hopeless future, haunted dreams, and an invisible past, each morning is an Invisible Dawn and life holds no meaning, until she meets Jedd. Her newly discovered godfather becomes her beacon in tumultuous seas as they strive to find answers and allies.

On the run from PASTOR Agency's first trained shifter, an egotistical man with power hungry desires, Madelin and her godfather find their lives intertwined with a broke Cajun gambler, an ex-mercenary in search of redemption, and a rebellious Vampire.
Can they survive nature's mysteries and humanity's greed? Will they find salvation? Only a Darwinian victory will do, but even that may prove futile.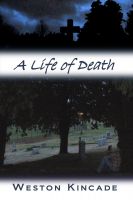 The second book is
A Life of Death
Author's summary of this one:
Certain aspects of life's journey go unquestioned by most people like the love of family and supporting friends, but many adolescents are lost in a tumultuous sea of storms, their journey through life a collection of daily hardships and twists of a metaphorical knife in the gut. With no clue whether a buoy or life raft will drift his way, Alex unknowingly seeks escape, meaning, family, a destiny, or even a shove in the right direction. Then, sixteen days of reliving people's traumatic murders and one research project teach him the meaning of love, fate, confidence, and purpose.

A paranormal coming-of-age mystery about one boy's pain and hardship endured in a small Virginia town. Losing a father and growing up with an abusive, drunk replacement is hard enough, but when you hardly knew the first because of his constant military deployment, it alters your perspective. As a seventeen-year-old high school senior, Alex Drummond learns the value of family and the meaning of dedication the hard way, but reliving people's horrendous murders does have its upside. Join him as he struggles to find his destiny, understand love, and discover what really happened to his father and the skeletons hiding within his small home town.
Both of these books look like awesome reads. I am anticipating reading them. Matter of fact, I have moved them up the TBR list because they sound so interesting.
Both of the author's books are available on Smashwords and Amazon.