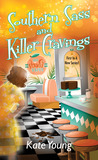 Southern Sass and Killer Cravings
by
Kate Young
My rating:
5 of 5 stars
This is the first book I have read from the author. It is the first book in
I was totally caught up in the story. I am a domestic abuse survivor. I was surprised to see that Marygene was also a survivor. I totally paid attention to how this was treated. The author did an awesome job with it. It was a secondary story but was not graphic or excessive. It was a part of the reason why Marygene was returning home. It was something she needs to deal with. I was heartened to see the author did not toss out the reason and then never mention it again. I was able to connect with Marygene as she tried to figure out and deal with the many emotions that come with leaving. Amazingly, in my opinion, the author struck a balance between the mystery, (not using him as a suspect which had to have been tantalizing), potential love interests and her need to process what she went through. I thought the situation was handled honestly and sensitivity. I hope that future books continue with her growth as a background story. Domestic abuse still carries with it guilt and shame, even as more victims speak out. It took me almost 10 years to be able to talk about some of my experience. Books, like this one, are important because they not only let us identify with a main character, they help break through the silence. Thank you Ms. Young.
The mystery was well done. I don't like to talk a lot about the mystery. I would rather let you figure it out yourself. There are several potential suspects. I found myself second guessing, and still trying to decide on who, in the last part of the book. I liked many characters. More I liked the exploration of relationships. Despite the serious subject, the book never felt heavy to me. I loved Mama popping in. She made me laugh out loud. I'm kind of hoping that her love for her children, along with her need to make atonement to them, will keep her in the series. I am looking forward to the next book in this series.
There are several recipes included. I definitely need a waffle iron. The recipes are unique, at least to me. They can look intimidating, I'm not a baker so they did look it to me, but the cookies were pretty easy and wow! Very much worth it. I love the author's trick of using ziplock bags to mix in. I am planning to make those peach rolls. They made me drool when I was reading. That waffle iron I mentioned...potato waffles! Another diner menu item that had me drooling while reading. Maybe I can borrow a waffle iron.
This book is due out at the end of May, just in time for beach reading. I won an advanced paperback copy. I had some family issues pop up while reading it so it took longer than I expected to read it. I voluntarily reviewed the book as I try to review all the books I read. All the thoughts of the book are my opinions. As always, if a book interests you, I encourage you to read it. If you aren't certain it is for you, please request it from your library or a library app.
View all my reviews